The learn.okfosters.org site navigation menu is available no matter where you are in the LMS.
Select and deselect the menu button in the top left-hand corner of the window to switch (aka toggle) the menu between visible and hidden.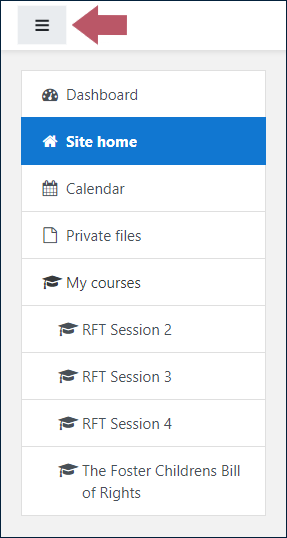 Menu items include:
Dashboard: Your dashboard displays your current courses, Recently accessed courses, a customizable Course overview and several other information blocks.
Site home (course catalog): Select Site home to view and search all the in-service training courses available in the LMS.
(Need help finding or enrolling in a course?)
My courses: Courses you're enrolled in appear on the menu under My courses. Select a course name to jump directly into it.
Whenever you enter a course, a course-specific navigation menu opens above the sitewide version, providing additional options.