Your dashboard is the main page that opens when you first log into the Foster Care and Adoption LMS, and it lets you access the most important details of your online training from one central location.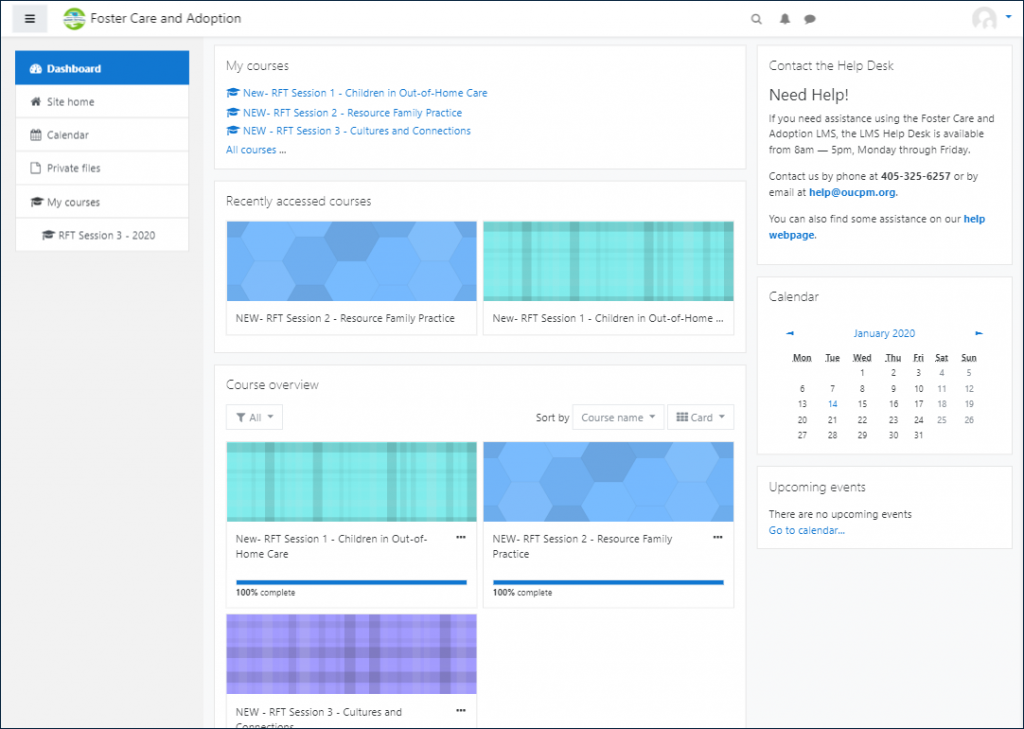 No matter where you are in the system, it's easy to return to your dashboard if you get lost—simply (a) click the Foster Care and Adoption logo in the top left-hand corner of the screen, or (b) click the dashboard breadcrumb link below the page title, to go directly to your dashboard.
Much of the LMS website is divided into information blocks, which contain a variety of knowledge and tools. Some provide straightforward information, like Contact the Help Desk. Most blocks, however, are dynamic—such as Recently accessed courses and Course overview—and update as you make progress and personalize your online training.
My Courses

RFT Learners: you should already be enrolled in the course RFT Session 1 – Children in Out-of-Home Care when you log in for the first time, so it will be listed under My courses on your dashboard. The rest of the sessions will be unlocked as you progress. (Learn more about how the RFT Program works)
Recently Accessed Courses
The courses you've visited most recently are displayed in the Recently accessed courses block, so you can easily jump back into the last course you visited. Select a course name to open it.

Course Overview
The Course overview block displays your courses, plus the amount of progress you've made in each one.
It includes three customization menus, so you can choose:
Which courses are displayed (All, In progress, Past, etc.)
How the courses are sorted (by Course name or Last accessed)
How the courses are displayed (Card, List, Summary)